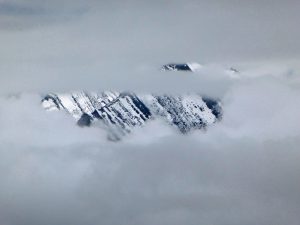 Love.
We have just celebrated Valentine's Day when we wrap up Love in the romance of dinner, flowers or a box of chocolates.  It is not something we normally call out as being a major operating force in business and the world and yet…
In India on a 23 day trekking and mountaineering trip
It was definitely loving for me and my fellow travellers to accept each other's foibles. Definitely loving when they supported my climbing being prioritised over their own.  Are we not taught that tolerance and selflessness are qualities of love?
We are unlikely to travel together again, or even see each other again.  This means the commitment to loving went beyond pragmatism.  We had strangers commenting on how connected and tight knit our group was, including Vinod and Sanjay who had very little English: a joy to be around.  The feeling gradually intensified over the time we were together and made the trip one of the most memorable of my life.
In Chamonix with my friend and climbing partner
Rob and I shared a love for climbing and for the mountains whose beauty silenced us.  We took enormous delight in seeing each other experience this more fully during our time in Chamonix.  There was a depth of mutual commitment that allowed us to work around each other's moods, each other's blocks and limitations and to keep anchoring back in what was beautiful, amazing, possible and achieve together what we could not have achieved alone.
A Country Wedding in France
The wedding celebrations of two friends in a village near Paris formed a vast metaphorical cauldron to hold the love of friends and family as they gathered.  Over several days it filled up to the brim and overflowed as a blessing for the bride and groom and for everyone there.  We shed genuine tears at leaving people we had met a scant 4 days earlier, because we felt the bond of sharing something precious.
Inside a Global Business with Global Teams
I think of Cliff, a leader who consistently gets the best out of people, whose organisation is seen as a hub for talent with increasing competition to join his team because people know they and their careers will be looked after.  He might not use the 'L' word.  He has more than enough awareness to know that his commitment to listening, learning, challenging, supporting and taking unfettered delight in people's success – plus always looking for the win/win/win – is a pretty good imitation of it.
To be clear, I'm not talking about a wishy washy concept of love where everything has to perpetually be ' nice' or kind.  Every parent, every friend knows the importance of setting boundaries out of love, knowing that 'this is where I stand', 'this I will not accept'.
My experience shows me that something profound happens when we make love an essential quality of our relationships.
One of my mantras is that we lead through the quality of our relationships and that the first and most important relationship is with ourselves.  I also acknowledge the old saying "you cannot give to another what you won't give to yourself".   So if I am to be generous, considerate, appreciative of others then I also need to practise generosity consideration and appreciation of my own being and actions.
This plays out at work, in marriage, through our friendships and our community roles.  My leadership and my life are expressed through the network of relationships that I care about. I care because we share DNA, commitments, intentions, goals or values.
It gives me and you a different starting point when we navigate the frequently complex challenges we face professionally and socially. The solutions are implemented through relationships as well. When love is at the centre of a solution it is inevitably more sustainable.
This sits at the heart of the work I do.  For in my experience, no matter how complicated the situation at first appears, when we are able to look deeply enough and when we genuinely care about the relationships it becomes much, much simpler.
I would wish for us all to cultivate loving hearts.
For more information about Ruth visit www.ruthmccance.com or email ruth@ruthmccance.com